Detroit house auction flops for urban wasteland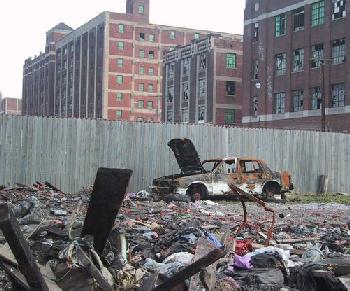 Life in "Progress" City
In a crowded ballroom next to a bankrupt casino, what remains of the Detroit property market was being picked over by speculators and mostly discarded.
After five hours of calling out a drumbeat of "no bid" for properties listed in an auction book as thick as a city phone directory, the energy of the county auctioneer began to flag.

"OK," he said. "We only have 300 more pages to go."

There was tired laughter from investors ready to roll the dice on a city that has become a symbol of the collapse of the U.S. auto industry, pressures on the industrial middle-class and intractable problems for the urban poor.

On the auction block in Detroit: almost 9,000 homes and lots in various states of abandonment and decay from the tidy owner-occupied to the burned-out shell claimed by squatters.

Taken together, the properties seized by tax collectors for arrears and put up for sale last week represented an area the size of New York's Central Park. Total vacant land in Detroit now occupies an area almost the size of Boston, according to a Detroit Free Press estimate.
These auctioned properties were only from one year (2006). Things have only got worse in the housing market since then and the Auto Companies just went bankrupt. I read that last year Detroit had 50,000 to 60,000 abandoned buildings. Wouldn't surprise me if that number is larger now.
Gordon Gekko at the
Taxman Blog
notes that it wasn't conservative administrations that turned Detroit into a cesspool of humanity. You can make that argument for every big city in decline in middle america.
That argument was made very well in the past by Steven Hayward:
Broken Cities- Liberalism's urban legacy
.
Sphere: Related Content